Feb 27, 2012
Partitions On El Al Flight To Block Movies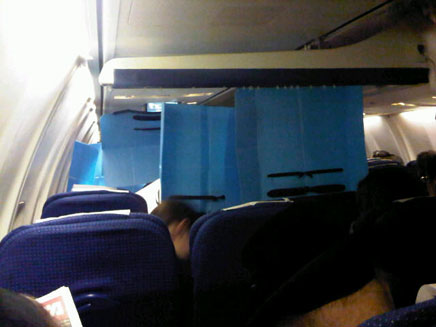 A few days ago on an El Al flight from Brussels to Tel Aviv some passengers pulled out some sort of fold-up cardboard partitions and connected them to their seats, seemingly to prevent themselves from seeing the video screen. After a passenger complained about it, various security experts have said that harming the visibility inside an airplane is a security breach, and blocking visibility of emergency lights and signals is also dangerous.
For it's part, El Al said there was no security breach during the incident, though they will review the incident and refresh all security protocols and responses to behaviors with the staff. A stewardess from the flight confirmed that the incident had happened and added that it is not new and they tend to prefer to ignore it unless someone complains. (
source: Mako
)
After the Hiddush organization protested to El Al on their Facebook page, El Al responded that this was an exception that was against the rules of the company... because of the incident an internal investigation is being conducted and directives are being refreshed - the staff are requested to ensure that such incidents do not happen again.
Some people are just crazy. There seems to be no end to the craziness. They could put blinders on to block their personal view. It is very selfish to put up partitions like that that block other peoples views as well. Where do people get the idea that doing such strange things is normal and acceptable. If a person wants to behave strangely in his personal life, dress strange, act strange, that's one thing. To be strange in public, at other people's expense, is just weird and I don't know why they think this is what Judaism wants from them.