Jul 22, 2020
Early on int he days of Corona, the government put in place allowances for people to be able to push off some loan payments with no penalty. Among the possibilities was the ability to freeze mortgage payments. The plan was that one who felt it necessary, because of Corona and the damage caused to his income, could request it from his bank no questions asked, and it would be approved.
At the time, the delay in payments was set for 3 months. Also, the delay payments would not then mean the loan itself would get extended at the end of it by an additional 3 months. Rather, the 3 months of non-payment would be divided up over the remaining payments due on the loan, making future payments somewhat higher.
According to
Globes
, the Bank of Israel recently announced that payments for 1 out of every 4 mortgages in Israel was delayed. 1 out of every 5 small businesses in Israel delayed payments of loans under the same plan. And, seeing the necessity of this program, the Bank of Israel has decided to extend this plan further, beyond the 3 months initially set, for an additional 3 months until the end of October.
They are extending the plan because of the second wave of CoronaVirus that we are experiencing (though some insist that it is not a second wave yet but is still; part of the original first wave) that is still threatening to cause major damage to the economy and to many businesses.
Again, this is the ability to push off payments, no questions asked, and it also incurs no fees, but it collect interest on these pushed off payments. A bank rep said that a person requesting the payments be delayed should see this as a new loan being paid on top of the mortgage, and this new loan might have its own fees.
basically, it is not as simple or quite as "free" as you might think. Check with your mortgage bank for details of what you might have to pay when eventually repaying the loans, and decide whether it is necessary or worth it before you just go ahead and take advantage of this.
------------------------------------------------------
Jul 21, 2020
We are an independent party. If we could, we would run Gafni for the position of Prime Minister..
-- MK Yitzchok Pindrus (UTJ), about the recent friction between the Likud and UTJ
------------------------------------------------------
With all the different heterim and allowances on fast days and during the Nine Days and Three Weeks, and previously during sefiras haomer, I have yet to see the interesting psak of a rabbi allowing people to eat meat during the Nine Days, even if just for people stuck in quarantine. Where is the rabbi who will allow meat due to the difficulty of the times and the depressing state when in isolation?
And for a hypothetical question, would you go into quarantine "just" to be able to eat meat during the "Nine Days"?
------------------------------------------------------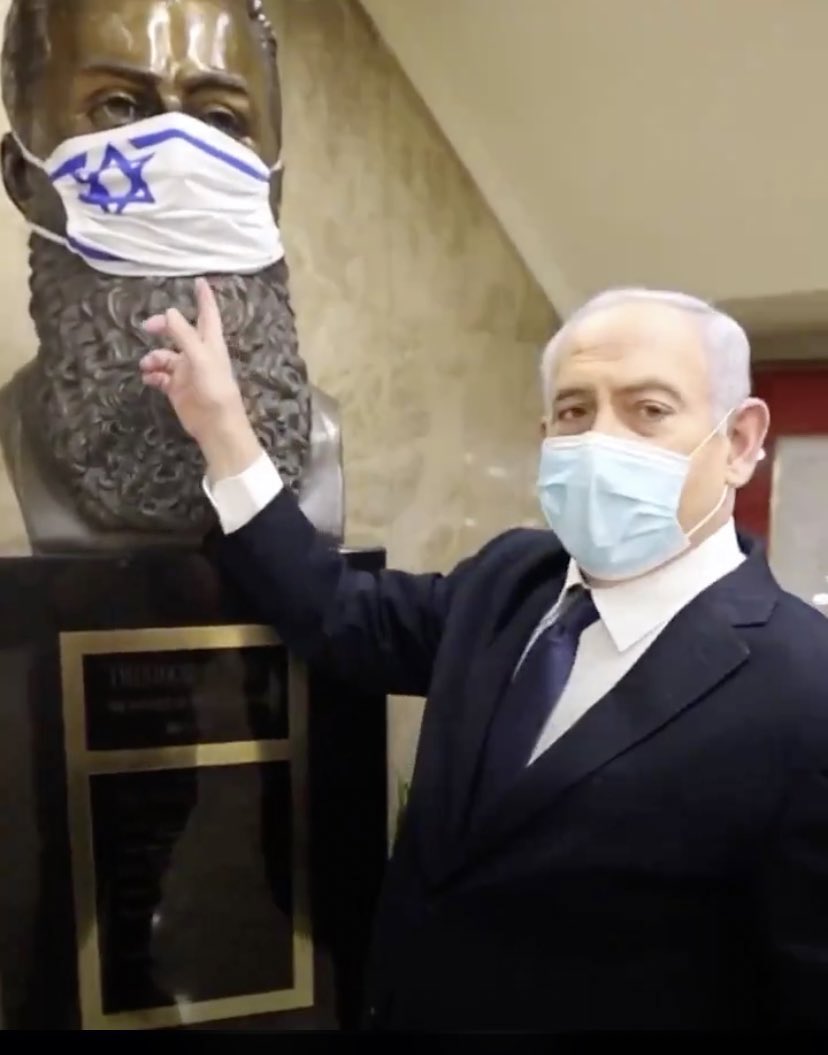 PM Netanyahu recruited Theodore Herzl to try to help persuade people of the importance in wearing masks...
------------------------------------------------------
Rav Hershel Schachter has issued another interesting psak for Tisha B'Av in light of CoronaVirus.
According to Rav Schachter, even though normally one is not allowed to wash himself, even just his hands on Tisha B'Av, if one feels the need to wash his hands on Tisha B'Av this year to protect against Corona, as per the instructions of the various health organizations (ie Ministry of Health, WHO, CDC, etc) would be allowed to.
However, he would only be allowed to if he strictly adheres to all the rules of the health organizations that were put in place to protect against the virus, including masks and social distancing. if one is flippant and is not careful about the other rules, one cannot say he needs to wash his hands as protection against the virus. If someone is disregarding the other rules of the CDC, he cannot insist on this one, and washing would remain prohibited..
I might think even though a person is an anti-masker, he still might see the importance of regularly washing hands, and for him that could be allowed (though not if he were only doing it on Tisha B'Av but isnt careful about it the other days).
Rav Schachter is taking an all or nothing approach with following the CDC rules. If you find the advice of the CDC valuable, keep it all or don't use them as your excuse.
source: YU Torah
Behadrei is
reporting
on a weird story involving Corona, quarantine, police and a tallis led to an interesting psak.
An avreich in Bnei Braq needed to be in quarantine after an alleged exposure to someone infected with CoronaVirus. The fellow claimed that the exposure detection was a mistake in the GPS signal tracking by the Ministry of Health from his cellphone and that he was never actually exposed.
Because he felt it was in error, he did not keep strictly to the quarantine. he went out one day to go to shul. While he was in shul, his wife at home answered the phone and it was the police checking that he was keeping to the rules of quarantine. They asked to speak to him, to make sure he is home, but she explained that he is in the middle of davening, at home, and cannot come to the phone. The police officer said he is downstairs in front of the building and will wait a bit and check in again soon.
no, it likely did not look like this
Several minutes later they called again and she answered again that he is still davening. By now the police doubted the veracity of her story and said that he should stick his hand out the window, while davening, and wave to them so they can see him. This way they would not come up and disturb him during his prayers, but at the same time confirming visually that he is at home as per the quarantine orders.
Mrs Quarantine came up with an idea quickly. She found her husband's Shabbos tallis and wrapped it around herself, went to the window and stuck out her hand and waved. I guess the police accepted that and moved on. It is a good thing she probably was not wearing nail polish.
The question was then raised and sent to some local rabbis if by doing this she had transgressed the prohibition of a woman wearing the clothing of a man. I don't know why she did not also ask if it is permitted to lie in such a situation to avoid a fine, but so be it.
According to Behadrei, the rabbis did not want to answer the question so it should not appear that they are supporting people breaking quarantine, even if the claim is that the need for quarantine was mistaken. In the end they did issue a psak that the wife had not transgressed the prohibition of Lo Tilbash, of a woman wearing the clothing of a man.
The Women of the Wall and other women who like to wear the tallis for davening surely all apreciate the psak of the rabbis from Bnei Braq...
------------------------------------------------------
There are currently two new big fights going on in the government between the Haredi parties/public and Netanyahu (and his government).
1. One fight is regarding the decision to allow restaurants to open with a maximum of 50 people dining, while at the same time limiting minyanim outdoors to 20 (and indoors to 10). The restaurant situation is actually a fight within the government itself even without the Haredi reps - the government wants to shut it all down, and the Corona Committee wants to allow them to remain open as the government has not shown any significant level of danger by allowing them to remain open (with strict guidelines). Assuming that fight will get resolved by leaving them open, the Haredim are upset that restaurants are left open for 50 diners and minyanim with only 20/10.
The big difference, in my opinion, is that people go to minyan 3 times a day. Aditionally, there is some amount of socializing at minyan. On the way in and out, and honestly sometimes during services as well, people talk to each other, say hello to friends, etc. The restaurant - any given person goes to a restaurant maybe once a month or once every couple of weeks. if someone goes once a week that is considered eating out a lot. Also, there is almost no socializing done at restaurants besides for socializing with the person you went with - your spouse, kids, other half of your business meeting, whatever, but you are not socializing with other people just sitting in the restaurant at their own tables. In the shul everyone is doing an activity together, and in the restaurant everyone is doing their own thing.
.
2. The second fight is over the "stimulus" money being talked about. Netanyahu announced the plan to give out money to everyone, and parents would get money up to, and including, the 3rd child under 18. At first it became a fight about only giving to those in need and not to everyone, not to the wealthy, not to those still working, not to those earning over a certain income... now the fight is why stop at 3 children and why not give for all children under 18? Stopping at 3 is discrimination against Haredim who have many more children on average. Do those children not deserve the money for food and things?
I agree with this. The plan is to give the money to every single person, whether they need it or not. Every person should get it, except the fourth child in a family? Every person except the fifth or eighth child? Why does child #4 or #8 deserve it any less than anyone else? If you come up with a great plan (and it is fair to debate whether the plan is actually good or not) to hand out money to everyone, give it to everyone.
------------------------------------------------------
this is the first I am hearing about this trend or discussion. I am a bit wowed. for years people have been talking about sending to public school with after school Jewish education because of the high tuition and the crisis it causes so many. on the one hand this is a good idea. The kids will get the education without the high tuition and without having to mix with the non-Jewish kids. It is the perfect opportunity for following through on the "threat" that they never otherwise would have done.
on the other hand, it does seem likely that what he says at the end is correct - many kids will surely not get a Jewish education, at least in a serious way. But then again, are they now? Many of our schools give a great education - but are all the kids getting a great education? So many just don't seem to fit in and the schools can't or don't customize anything for them. This has been discussed for decades, I am not saying a chiddush. Probably the kids that would not get a good Jewish education in such a scenario probably already are not anyways.
------------------------------------------------------
------------------------------------------------------
------------------------------------------------------
------------------------------------------------------
------------------------------------------------------
Jul 20, 2020
We are a Moroccan family of 150 cousins. I haven't seen a single shekel because of [my relationship with] Miki Zohar..
-- Yehuda Yifrach, cousin of Miki Zohar and owner of a wedding hall, responding to accusations that MK Zohar (Likud) is against the closing of wedding and event halls becaus eof his cousin who owns one...
------------------------------------------------------
If you have cash stored in your freezer, or stuffed in your mattress, or, as Israelis say, under your floor tiles, you very well might have gotten that cash by legal means but just don't want it kept int he bank. The assumption by the authorities though is that a high percentage of cash held by people int heir homes, int he cookie jar or under the floor tiles, so to speak, was obtained by more nefarious means. Not necessarily by dealing drugs or whatnot, though possibly also that, but even working without reporting the income and without paying taxes on it.
To that end, the government is going on a project to find that cash and "turn it legal", so to speak - ie collect taxes on it.
Cash is
already not king
, nor is
cash even a prince
. Now it is not even a simple citizen but a criminal!
According to
Ynet
the government is working on a plan to create an amnesty program, of sorts, by which people could "turn in" all their unreported cash. They assume a large amount of cash is held in houses or in bank safes, and much of it comes from money laundering, unreported income to avoid taxes, and possibly criminal activities such as drug dealing and prostitution.
Operation Beneath The Floor Tiles assumes about 10 billion shekels in cash is floating around out there. it also assumes a loss of about 35 billion shekels a year in unpaid taxes from unreported income.
This amnesty program would give people the opportunity to report the cash with no fear of prosecution for criminal activities or for tax evasion. It will also grant the reporter a lower rate on the taxes to be paid for that cash than had he reported it properly - with the expected rate to be set between 10 and 15 percent. And the reporter would not be fined or charged interested, assuming he pays his taxes immediately.
------------------------------------------------------
MK Yair Lapid (Yesh Atid) tweeted out an interesting tweet, pointless as it might be. he tweeted:
אם נתניהו יתפטר, תוך 48 שעות, נקים פה ממשלת חירום אמיתית. ממשלת אחדות אמיתית. לא ממשלת המנותקים הענקית שנתקענו איתה. הדבר האמיתי.
18 שרים. ממשלה יעילה, חדה, חדורת מטרה. ברגע שנתניהו יתפטר, כולם יצטרפו. יאחדו כוחות. אנחנו, בנט, ליברמן.

— יאיר לפיד - Yair Lapid (@yairlapid) July 20, 2020
Lapid announced that if Netanyahu would resign, within 48 hours he (Lpid) would form a new government that is truly a national unity government, a national emergency government, not the bloated disconnected government we currently are stuck with. This government would be efficient with 18 ministers and would be focused on its objectives. As soon as Netanyahu resigns, everyone will join and combine forces. Us, Bennett and Lieberman.
Ok, not a bad thought, but pointless as Netanyahu is not resigning. My point is not Lapid's tweet though.
MK Naftali Bennett's (Yamina) response is what is more interesting to me.
Bennett tweeted in response:
יאיר,

אי אפשר גם בנט וגם משותפת.

לא יהיה.

אנחנו במצב חירום לאומי.

מציע לחברים ביש עתיד להתמקד בסיוע לנצח את הקורונה ולא בעידוד אנרכיה.

https://t.co/sHXbijyWeT

— Naftali Bennett בנט (@naftalibennett) July 20, 2020
Bennett responded saying - Yair, we can't have both Bennett and the United Arab List. it won't happen. We are in a national crisis. I recommend my friends from Yesh Atid focus on helping defeat Corona and not in supporting anarchy.
I don't know who Bennett is showing loyalty to here. Those days are over. Bennett showed loyalty for a year of elections, plus the time in government prior to elections, to Netanyahu and the right wing bloc. That did him no good as he was cut out from the bloc as soon as Netanyahu did not need him.
Additionally, since the current government has been bumbling along in the fight against Corona, Bennett has been focused and has been running all over talking about how to defeat Corona with a detailed plan. He has been doing this so much he has become an annoying nudnik, but he's still the only one who seems focused and has an actual plan. Bennett has even proposed to present his plan to Netanyahu to adopt, but Netanyahu ignored him. he proposed to take the role for free with no title and no salary, but Netanyahu ignored him.
So I don't know who Bennett thinks he is showing his loyalty to. Not only that, but at this point it looks like Lapid's plan, were it to come true, which it won't, is very likely the only way Bennett can actually be helpful in fighting to defeat Corona, because Netanyahu won't let him have any part of it.
This type of loyalty is more like Stockholm Syndrome and lack of leadership than actual loyalty.
And, Lapid never said anything about the United Arab List.
------------------------------------------------------
By now there is not all that much new in this psak, especially after the piskei halacha we have seen during the times of Sefiras HaOmer and those in the days leading up to 17 Tammuz, but each period is slightly different and it must be said explicitly again for each period, with its own nuances.
Chief Rabbi Rav Yitzchak Yosef has paskened that people who are stuck in quarantine during the Nine Days are allowed to listen to music, and if they feel it necessary they can even listen to upbeat music with a quick pace.
According to
Srugim
, Rav Chaim Kanievsky paskened similarly though it says Rav Kanievsky added that one should preferably only listen to songs of texts from davening or other slow paced emotional songs.
According to
Kipa
, Rav Yosef's allowance is actually in stages:
1. at the first level, only audio clips are allowed - not videos.
2. listen with earphones so other people who are not in quarantine can't hear.
3. preferably a capella, vocal, songs, then if necessary calm music, and if still necessary for the person, he can listen to even fast paced music
4. the purpose for listening is to keep calm and not for other purposes
5. children can listen to childrens music with no problem
6. yeshiva students in yeshiva i the capsule system who need music in order to help them emotionally can listen
------------------------------------------------------
One of the difficulties posed to importers of food, specifically the alternate importers of food items rather than the official importers, was the requirement that they provide proof of kashrut to the Rabbanut to get the food items approved for import and approved as kosher. Often the alternate importers were blocked from getting such kashrut certificates due to agreements with the official importers as being the exclusive bearer of the certificate.
The "Cornflakes Reform" of a few years ago was supposed to open up the imports market in order to bring about cheaper prices on food, but this aspect was held up and presented difficulties to the importers and prevented some of the lowering of prices. The Rabbanut, led by Chief Rabbi Rav Yitzchak Yosef, has now approved the program to exempt the importers from providing proof of kashrut in order to be allowed to import and to get the kashrut approval of the Chief Rabbinate on the imported items.
How will the Rabbanut know something is kosher if the alternate importers do not have to present kashrut certification?
The Chief Rabbinate will collate information about the products being imported and will somehow determine the kashrut. Often the products are already known and certified as kosher, just the alternate importer is not given access to the certificate of kashrut. The Chief Rabbinate often has already seen the kashrut certificate from the original importer, and determining the kashrut won't be a problem. In other situations they will need to find ways to collect accurate information and make a determination. They plan to regularly consult with relevant kashrut experts around the world to make these determinations. At times the products might be made in multiple factories in different places around the world and at times one factory might be certified while another is not - the Chief Rabbinate will consult with the kashrut experts to determine if the items imported by the alternate importers from the other factories is also kosher, even though there is no supervision.
source:
Ynet
and
Kipa
It sounds like it could lead to a lot of complications and complexities, determining kashrut without any supervision. In Europe this is already done to some level by some kashrut organization. Additionally, most of the relevant products are also made in factories under supervision so the determination will need to be made how similar or different the ingredients used in the other factory are and if those different ingredients are a problem or not. It sounds like it should be possible but can be very complicated.
------------------------------------------------------