Jul 24, 2019
------------------------------------------------------
------------------------------------------------------
A few years ago, Avraham Fried introduced the world to a famous saying from the Kotzker Rebbe ZT"L through a song. The song titled "Ich Bin Ich", featured this tongue twister in Yiddish, which was a unique and unusual way for the Kotzker Rebbe ZT"L to say, "Just Be Yourself". Now with the three weeks upon us, Avraham wanted to take this opportunity and make this amazing message more universal. He chose this time of year when it is more important than ever to remember to be the best "you" and love your fellow friend like they were you. When tasked with how to turn the original track into acapella for the 3 weeks, Avraham approached Zemiros Choir's director and arranger Yoily Polatseck to take the reins. Zemiros and Fried have worked together many times over the past ten years, so it's no wonder they sound so good together. Gershy Schwarcz who recently joined Yoily and his team at the Zemiros Choir, is also a producer and mixing engineer at Edgware Studios in Monsey. Together, both Yoily and Gershy worked tirelessly night and day, and created a phenomenal sound. Yoily with his magical touch was able to add a beautiful and modern vocal twist to the song while still keeping the Yiddish "Taam". Being that no real instruments were used in the process of this arrangement, Gershy added his touch both sonically using his engineering skills and vocally together with Yoily, by imitating the instrumentation vocally to perfection. Now all that was needed was the visual element to really drive home the theme of the song. That is where veteran video producer Menachem Weinstein came in. He took the simple idea of the song and what Yoily and Gershy created with the vocals, and weaved his magic, creating a vibrant video in which everyone will be reminded to be the best they can be. Enjoy!
#JBY
(Just Be Yourself)
------------------------------------------------------
Jul 23, 2019
So, how many more times is Ehud Barak going to apologize to the Arab community for the events of the year 2000? Does he expect his apology to be accepted and all forgiven just because he said it? Why did he feel he needed to apologize again - if his first apology years ago was not enough, what made him think this apology would be any different? His apology actually seems pathetic to me, insincere, groveling and as if he has no idea what the relevant and important issues are in the year 2019 when there are other issues and nobody is even thinking about the year 2000.
------------------------------------------------------
Jul 22, 2019
Interestingly, in advance of the siyum hashas of the current Daf Yomi cycle, Agudath Israel of America has decided to withdraw the siyum app they recently released.
The siyyum app was mean to encourage and facilitate learning of the daily daf by bringing shiurim and other tools and aids right to your smartphone.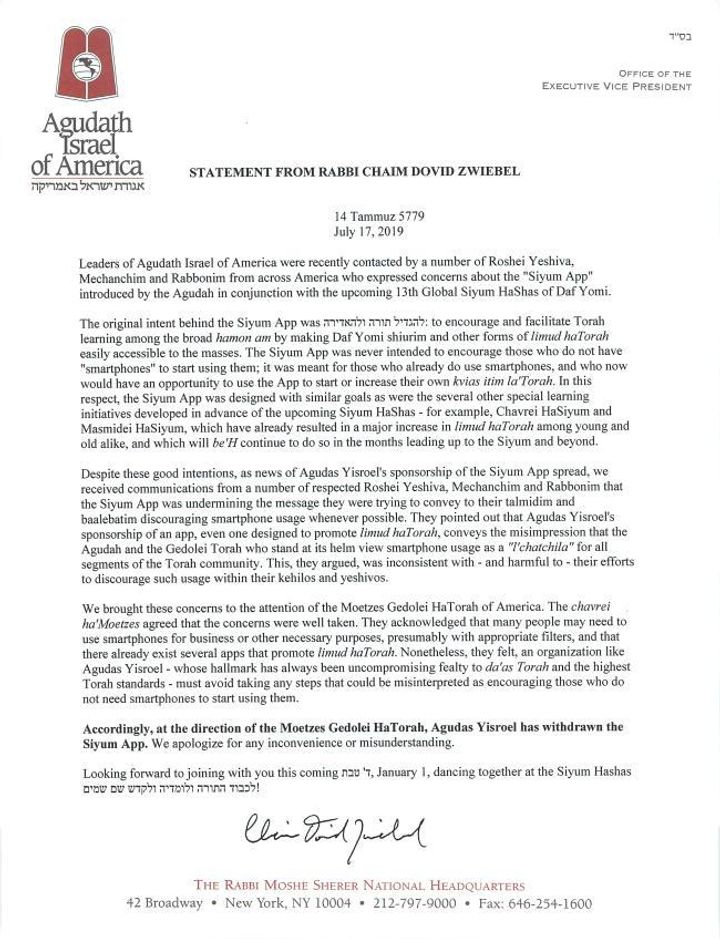 After some rosh yeshivas complained about the appearances of Agudath Israel of America being behind such an app, it seems to give a hechsher, a gushpanka, to people using smartphones, and that is bad and damaging.
After receiving the complaints, they conferred with the gedolei yisrael and decided that despite their good intentions, the right move is to pull the app.
source: many websites, but here is the announcement on
Baltimore Jewish Life
with the text of the letter from AIoA and not just the image
It is a shame, though understandable. they really cannot just do whatever they want against their own official policy. This could have been an opportunity for education, to show that smartphones can be used for good, for Torah learning, for education, for positive uses and not just games, Internet surfing and pornography. I get it though.
Interestingly, the process is strange. For an organization that prides itself on daas torah and consulting with the gedolim before doing anything, here they created and released an app, a good app, a positive app encouraging more torah learning, received complaints and instead of saying we have the approval of the gedolim because we asked them first, they said, we hear your argument, let's go ask the gedolim. So, they had such a major decision facing them that would require a significant change of policy and they did not bother asking the gedolim for guidance before making a decision. Hmmmm.
------------------------------------------------------