Aug 21, 2011
Are Hareidi Kids at High Risk of Abuse? (video)
Are Hareidi kids at high risk of abuse and/or molestation? I have
asked this question before
, and I ask it again.
I hear that today would have been Leiby Kletzky's 9th birthday. The horrific murder of Leiby Kletsky has prompted a lot of 'chashbon hanefesh' in the USA and throughout the Jewish world. Both the Aguda and RCA have published statements, focused on how people ought to respond to knowledge or suspicions of child abuse.
At the same time, in Melbourne, the whole frum community seems to be in disarray after exposure of several long-standing abuse allegations. Here in Israel, charges have just been brought against a Hareidi gang of alleged pedophiles who are accused of attacking dozens of kids in Jerusalem. Here in RBS there have also been a spate of arrests over the past year or two in similar cases, with one case being broken as recently as this past week.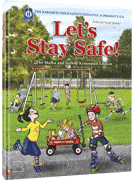 Whatever the general situation "out there" is, parents today have to be much more vigilant in protecting their kids, and even in preparing their kids properly to deal with such attempts.
To that effect, Rabbi Yakov Horowitz just published a book with Artscroll/Mesorah to teach parents to do just that. How to stay safe. And the book is called "
Let's Stay Safe
"